Annual flowers really bring color to the garden. It's time to petal to the metal and talk flowers. Every garden must have at least a few of these—even if you're team veggie. These quick growing beauties will consistently bring bright spots of color to your garden and home. Bees, birds and butterflies are also fans of annual blooms.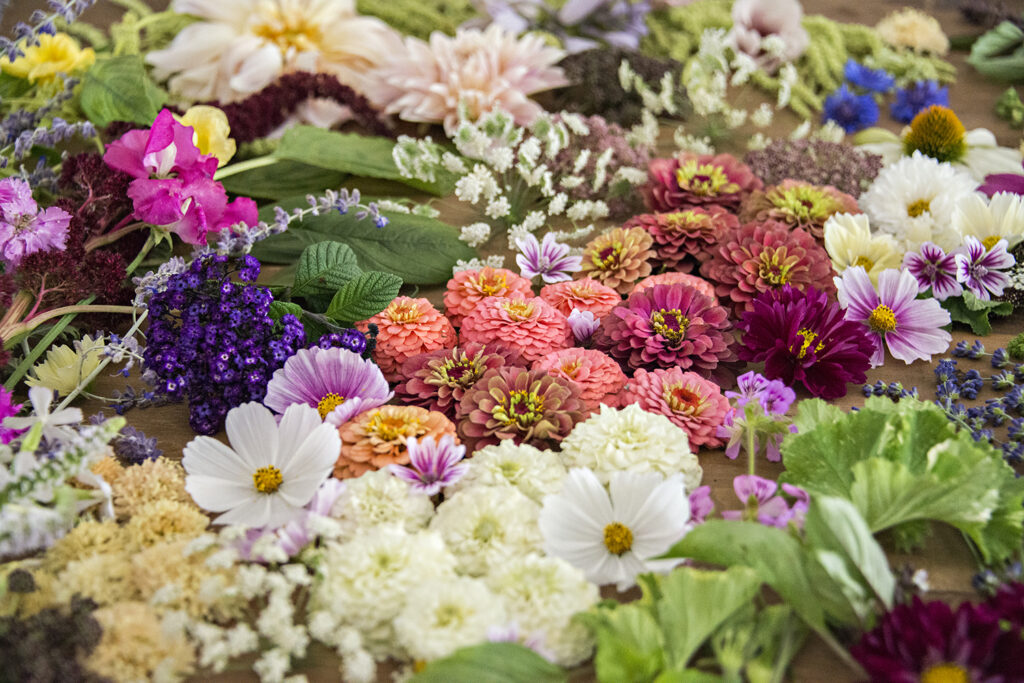 I'm going to be sharing with you my absolute favorite annual flowers. All can be started from seed or tubers this spring, and deliver a generous amount of blooms Unfortunately there are few shade-loving flowers, and full sun is vital to growing the blooms listed below. 
Squeeze them in everywhere and anywhere. Designated cutting gardens are lovely, but flowers don't have to be banished to only one space in the garden. Grow them throughout! 
Spreading your annual flowers around the garden will draw the pollinators through the garden. Meaning more pollination, more flowers and vegetables, and less pests. So let's get this flower party started!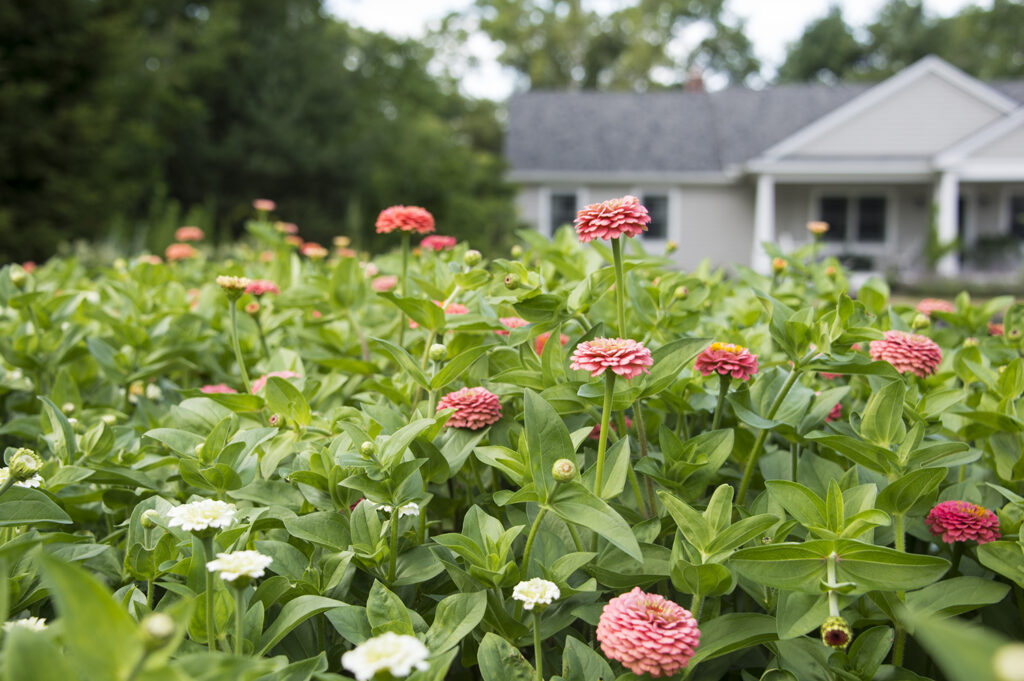 Top 10 Flowering Annuals:
#10 Zinnia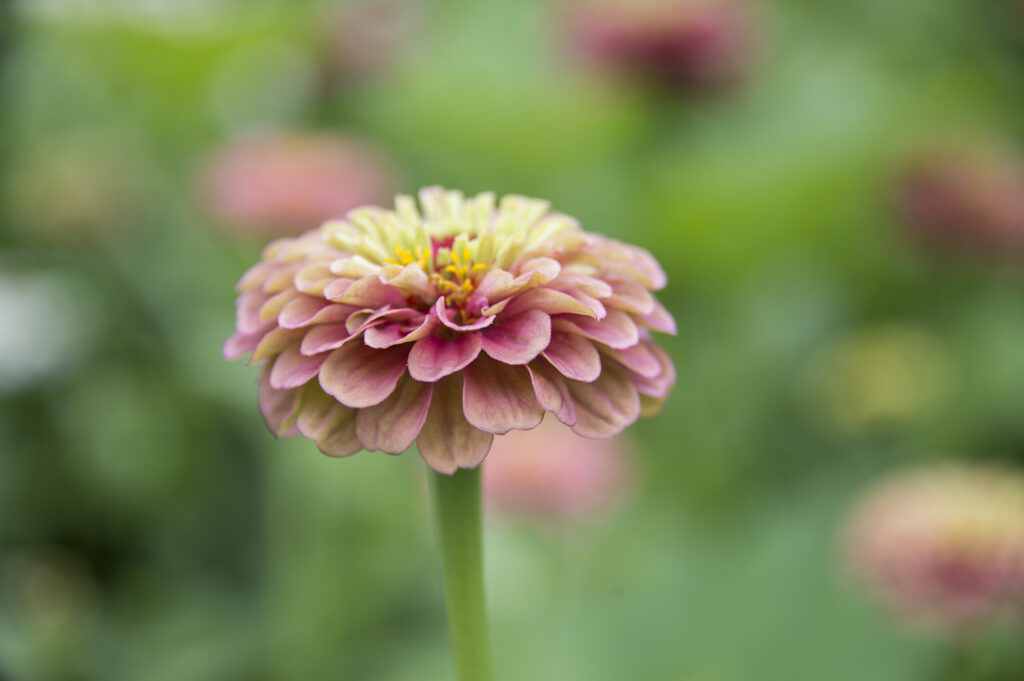 Zinnias are super popular for a reason. It was not love at first sight for me. But after some prodding from my sister I grew some, and it was then that I had my ah-ha moment. Unique varieties like 'Zinderella' or 'Queen Red Lime' really won me over with their forms and antique-like coloring. After this was when I realized zinnias had so many excellent qualities. They are prolific producers, have impressive stem length and have a vase length of 7-10 days. A little FYI, zinnias are considered a "dirty flower" because after a few days the vase water darks. Avoid that murky water look by snipping the bottoms, changing the water regularly and add a drop of bleach. Pinch early for bushy, productive plants and remember to wait until the stem is stiff before you start harvesting, and you'll be golden!
#9 Calendula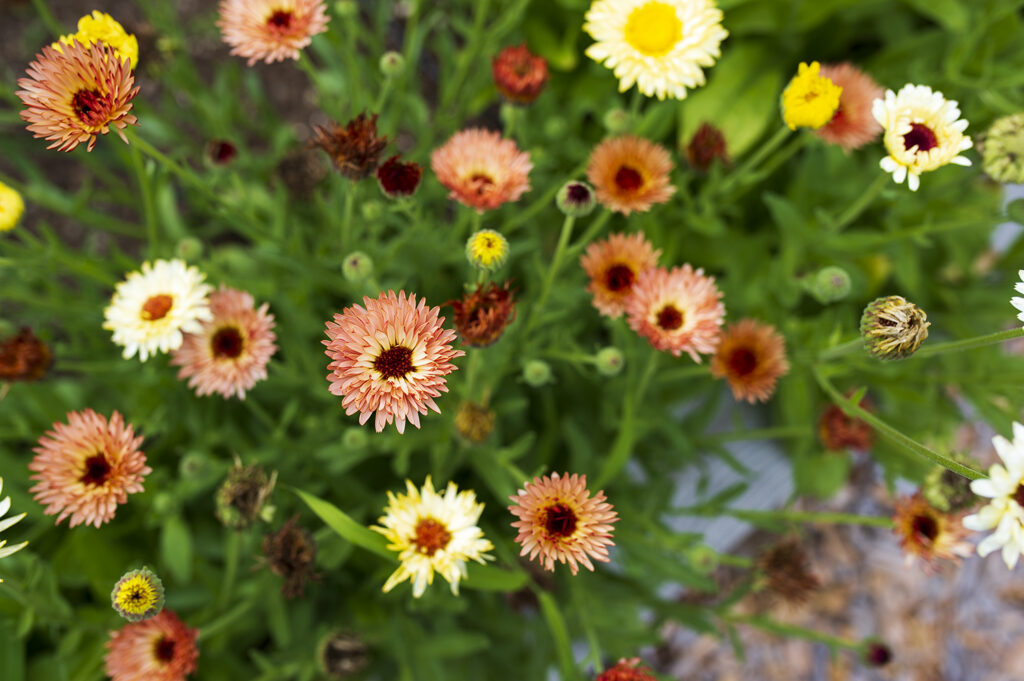 With its beauty and skin care benefits what's not to like about Calendula? Bees and other pollinators love them, making them them perfect addition to your vegetable garden. I like to plant calendula along the borders to brighten up my veggie beds. In additional to all that goodness, they are the perfect companion plant, acting as the perfect trap crop. If you're not familiar with trap crops, these are plants that pests love. Pests like aphid, thrips or whiteflies are drawn to the calendula and away from other susceptible flower and vegetable plants. So if you have a pest problem, try calendula! Just one of the many reasons I grow an abundance of pot marigold (AKA calendula). Pinch when 6-8" tall for massive show of orange, rust or yellow. Calendula 'Zeolights' and 'Ivory Princess' pictured above.
#8 Bells of Ireland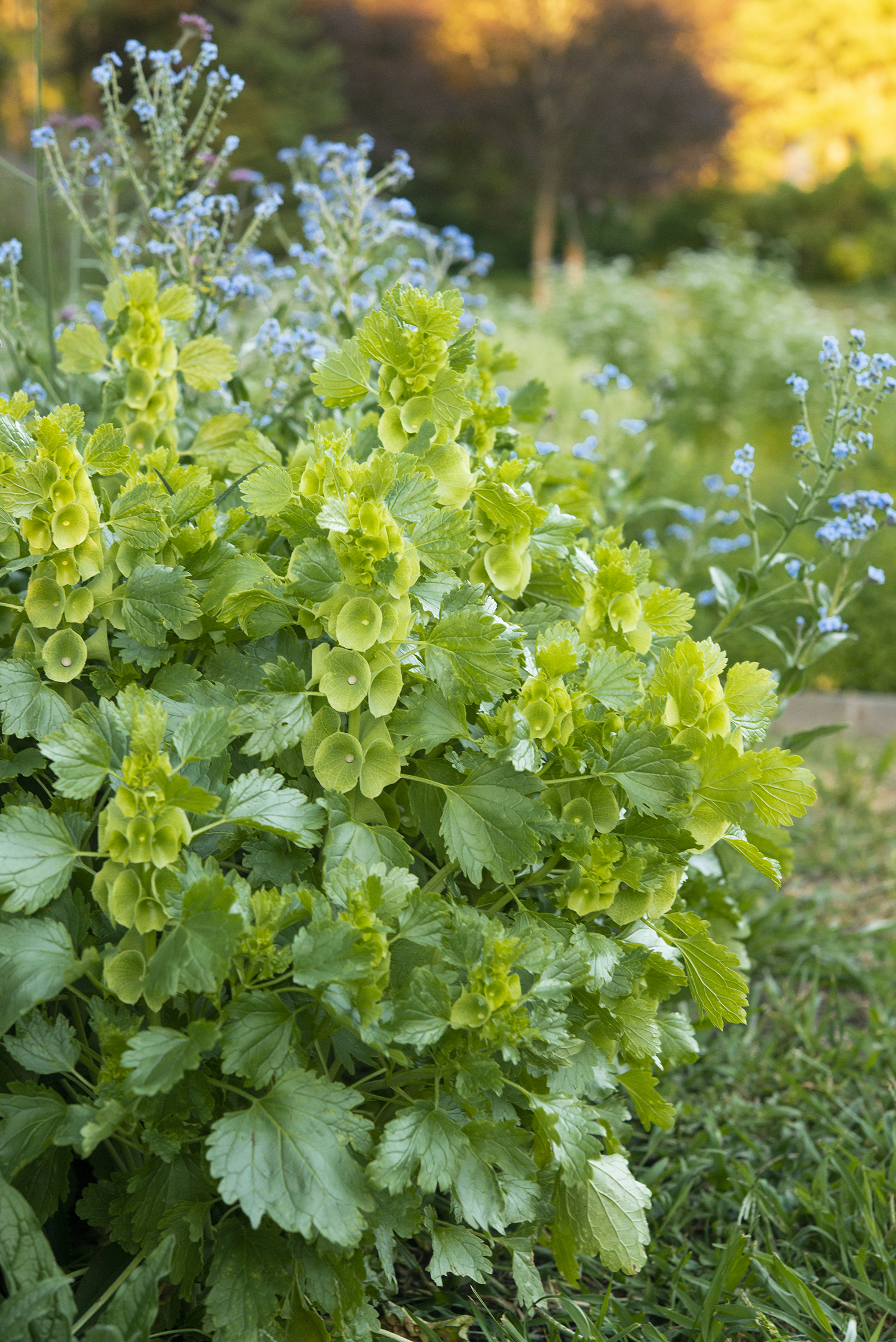 OMG! Yes I did just use an texting acronym, but its warranted here. Big spikes of gorgeous green, bell-shaped blooms, I just adore my bells of Ireland. Yes, I'm aware many consider bells a foliage plant, but I enjoy—and use them—as flowers. Are you feeling my excitement?! Sow these early for an ample spring into summer harvest. I usually toss my seed packet in the freezer for a couple (1-2) weeks to help with germination, which can be erratic. Don't cover seed as they need light to germinate. Pinching is not necessary here, but gloves when harvesting is, they have small spikes below the bell flowers. Harvest for cut flowers when the bells begin opening along the stem, and fully open for dry flower crafts and arrangements. Remove the lower leaves to avoid yellowing, and expect up to 2 weeks of vase life.
#7 Cosmos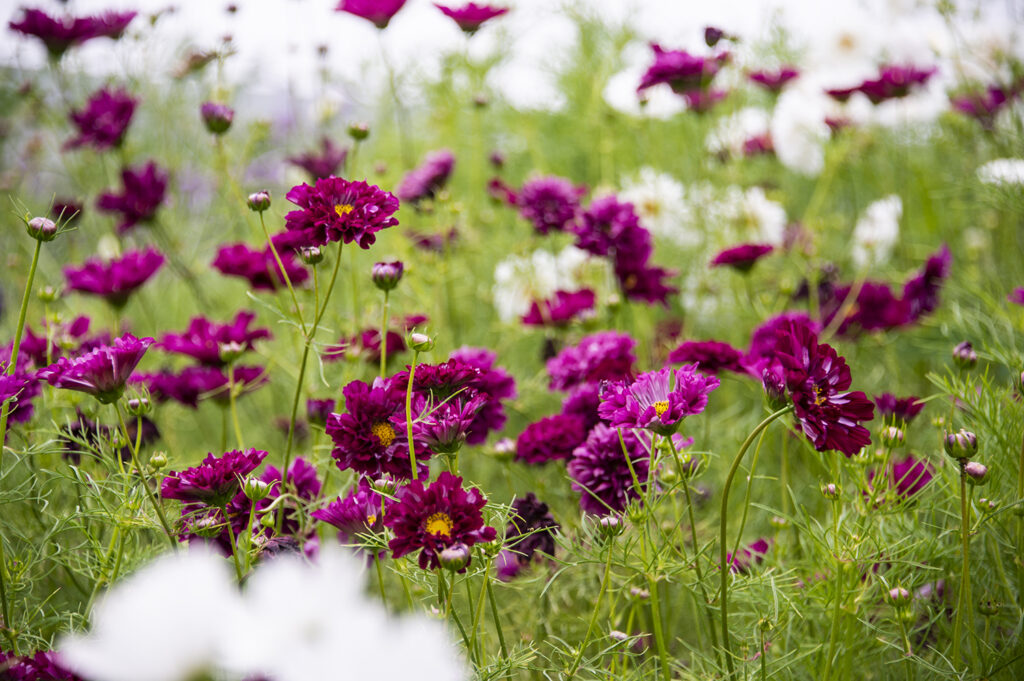 Tall, fluffy clouds of cosmos are just incredible to behold. You need these in your gardens. Cosmos are a prime example of: the more your cut, the more you get, flowers! These delicate flowers will just keep blooming and blooming for you all season long provided you harvest regularly. 'Double Click' are a personal favorite, because they're double flowers, 'Daydream' is a pretty pink two-tone variety, but 'Xanthos' are a lovely buttery yellow that are perfect on the kitchen table. Pinch back at 12" and harvest when petals are just beginning to open. While the flowers don't have the longest vase life, an average of 4-6 days, each stem typically has several blooms, all at different stages. So just as you need to clip off a dead flower, another is already opening. Dancing high above the other annuals, cosmos give any garden an authentic cottage garden flavor. 
#6 Hyacinth Bean Vine 'Ruby Moon'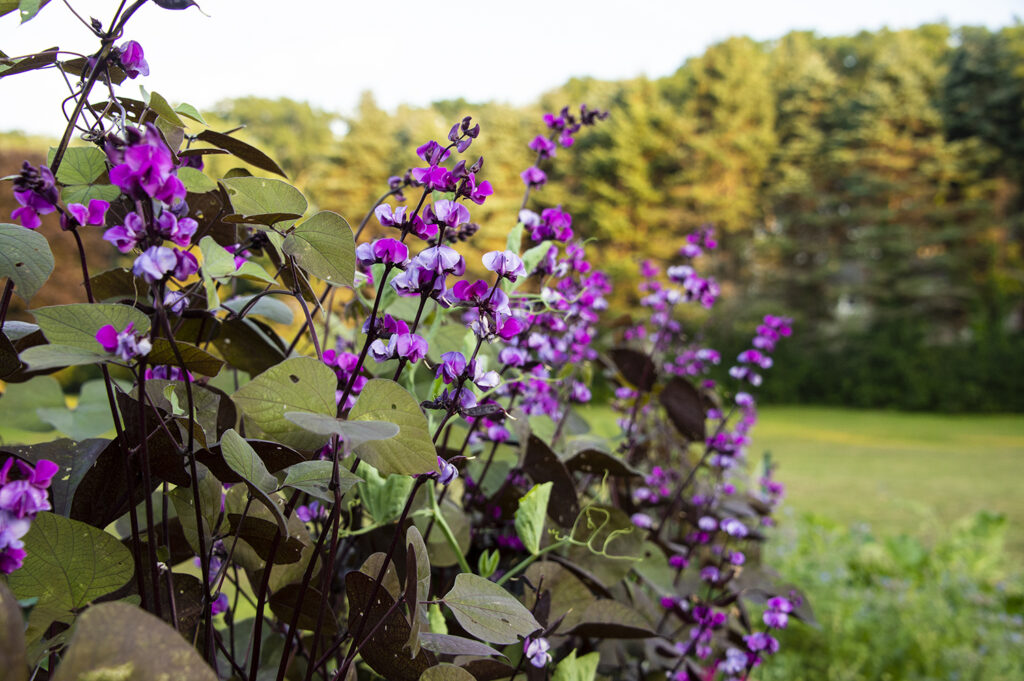 I'm all about vines, and this one is simply divine. Blue and purple swirled leaves with pale lavender and rich violet flower spikes along the top make 'Ruby Moon' a sure showstopper. Every garden should have some vertical element, and hyacinth bean vine delivers it with such gusto. All you need is a trellis to keep Hyacinth Bean vine going from summer till your first frost. Later in the season those lovely purple flowers become deep wine-colored bean pods, which add a great tactile detail to your garden and fall arrangements.
#5 Strawflowers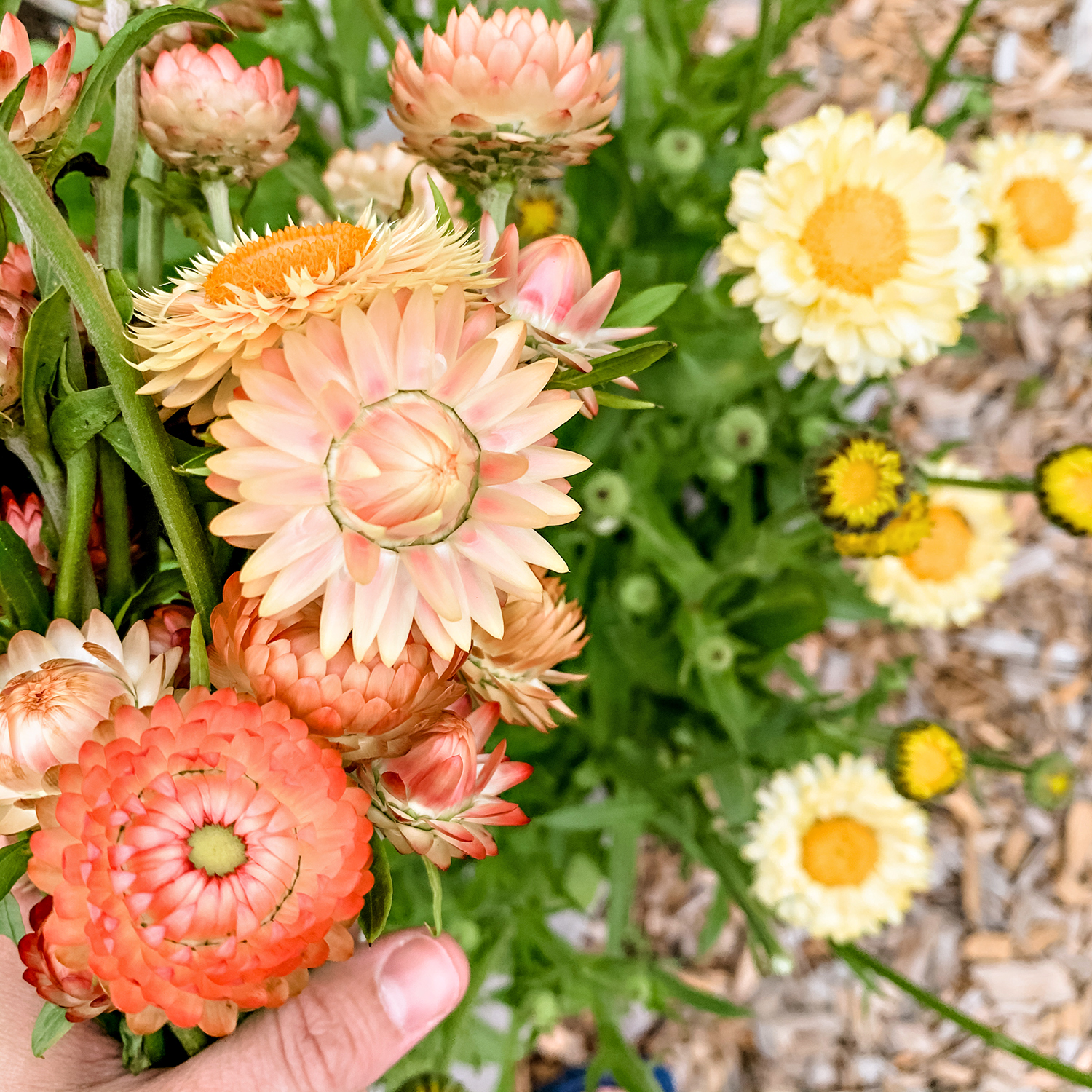 Strawflowers feel exactly what you think they'd feel like. Straw! Mine grow 3-3.5' tall, and not only do these blooms add incredible texture to your garden, they do the same in your arrangements…all year long. Drying perfectly, strawflowers make gorgeous wreathes, garlands, holiday ornaments and any other craft you might imagine. Once harvested hang upside down in a dark, cool space—I use our basement (it has a dehumidifier which makes drying a breeze). Personally, I find the 'Apricot/Peach Mix' and 'Copper Red' varieties meet all my color needs. Live flowers should last 7 days and be cut when they're about a third to halfway open. When sowing seed, keep in mind strawflowers need light to germinate, so don't cover them. 
#4 Rudbeckia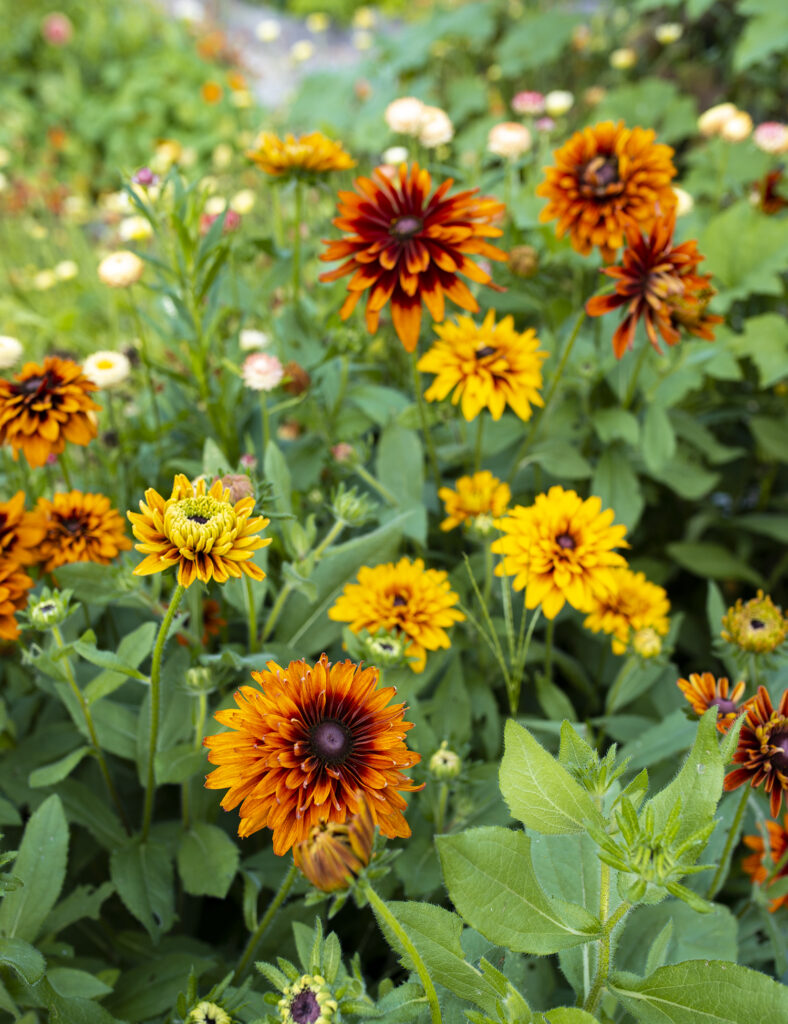 Bright, za-za-zing  yellow is not a color I put in the garden. And while there's a lot of charm to the traditional black eyed Susan's, they just weren't for me. Then I discovered some other rusty orange, tawny yellow and burgundy rudbeckia blooms and was hooked. 'Sahara,' 'Cherokee Sunset' and 'Chim Chiminee,'have changed the way I feel about these flowers. They are now an annual staple. Needing no pinching, rudbeckia is a no-fuss flower to grow. Lasting a week in the vase, it is helpful to remember, rudbeckia—like zinnias—can make your vase water murky, so change it readily and include a taste of bleach.
#3 Sunflowers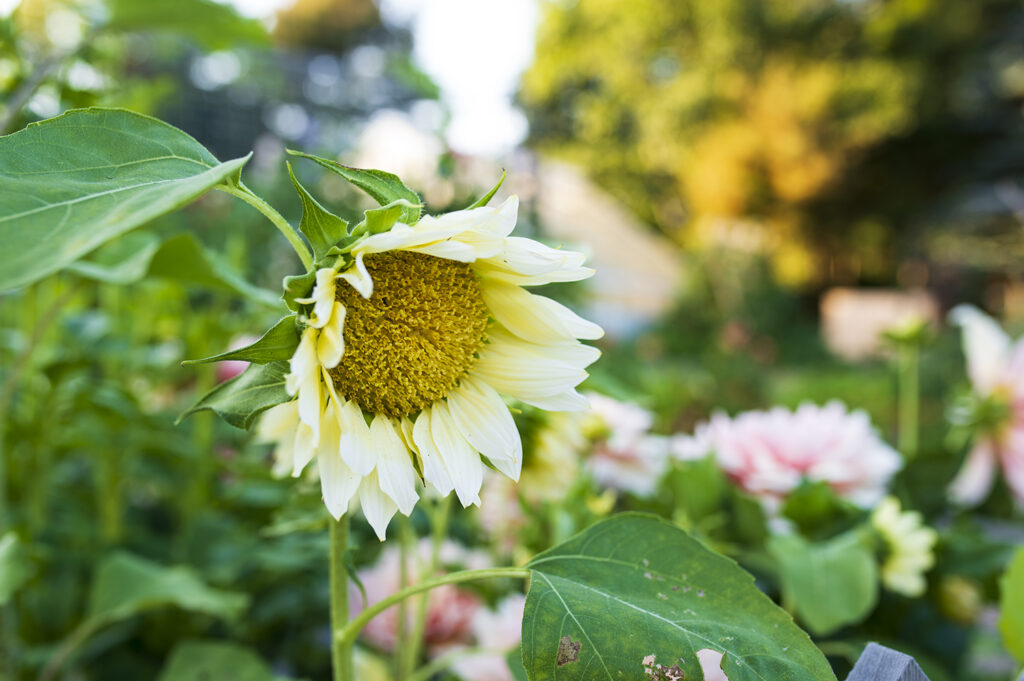 Sunnies, I fall HARD for these quick annual blooms every season. Many of which need only 60 days to bloom! And I love them even more since I discovered 'ProCut White Lite,' 'ProCut White Nite,' and 'ProCut Plum' (bred by Sunflower Selections) on instagram. The ProCut series are the leader for sunflowers in my opinion, because they are pollen less—an excellent quality for ornamental and event flowers—and can be grown tightly (4-6" apart).
Succession sow your sunflowers every 1-2 weeks for continuous harvest all season long. I start my first wave in deep pots for early transplant, then direct sow the remainder of the spring and summer. Do Not pinch as young plants, as they are tall, six-foot, single-stemmed annual varieties. As soon as the petals begin to unfold, harvest and remove the lower leaves for maximum vase life.
When growing sunflowers for their edible, meaty seeds, look for large or giant varieties like 'Mongolian Giant or 'Humongous.' Since sunnies grown for eating or birdseed are so much bigger, topping out at 10-16' tall with heads one to two feet across, they need wider plant spacing. And don't forget that sunflowers are also great in the garden because they attract pollinators! Bees and butterflies as well as beneficial bugs like ladybugs and lacewings are drawn to their bright, big nectar-filled seedheads, particularly those bred for eating.
#2 Sweet Peas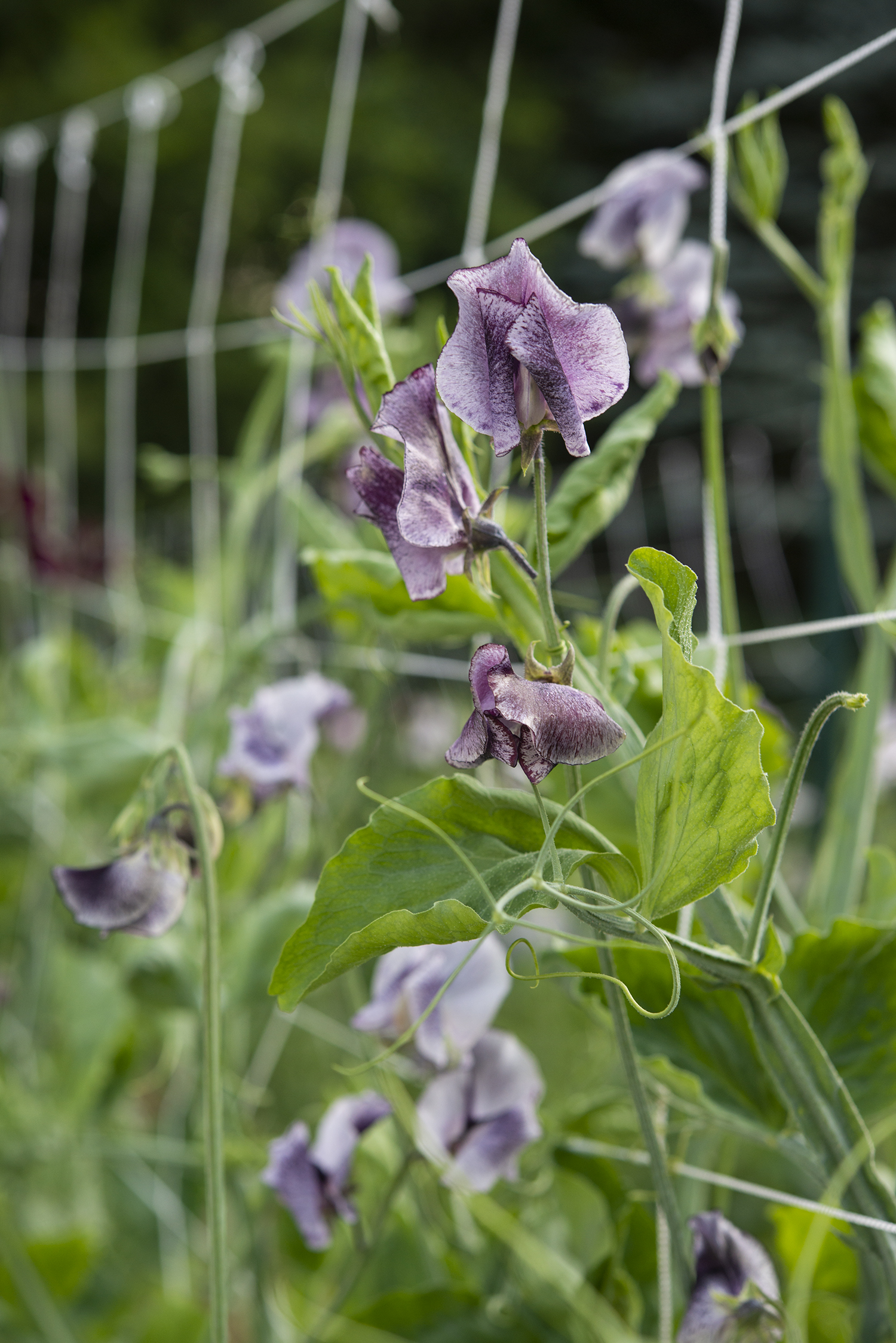 Nostalgia and sweet peas are synonymous in my head—and heart. Sweet peas do indeed have a sweet scent, and similar to peas, are a vining plant. Trellising of some sort is required. I've grown these beauties on cheap rope netting strung up between metal t-posts, hortonova netting (huge improvement, definitely worth the money), wooden lattice and metal animal fencing. For ease of growing and cleanup, hortonova netting is my number one pick. However, long panels of metal animal fencing are ideal for large-scale production and creating "walls" in the garden.
Last year I had my husband (who really deserves a shoutout for acquiescing so easily to all my crazy garden-related fantasies) take the metal fencing, and bend it over between several of my raised beds, creating arches. These tunnels looked so beautiful in the garden, adding a nice tall, structural focal point. The metal material was perfect for this purpose, as they're now left up all year long, ready for the next season.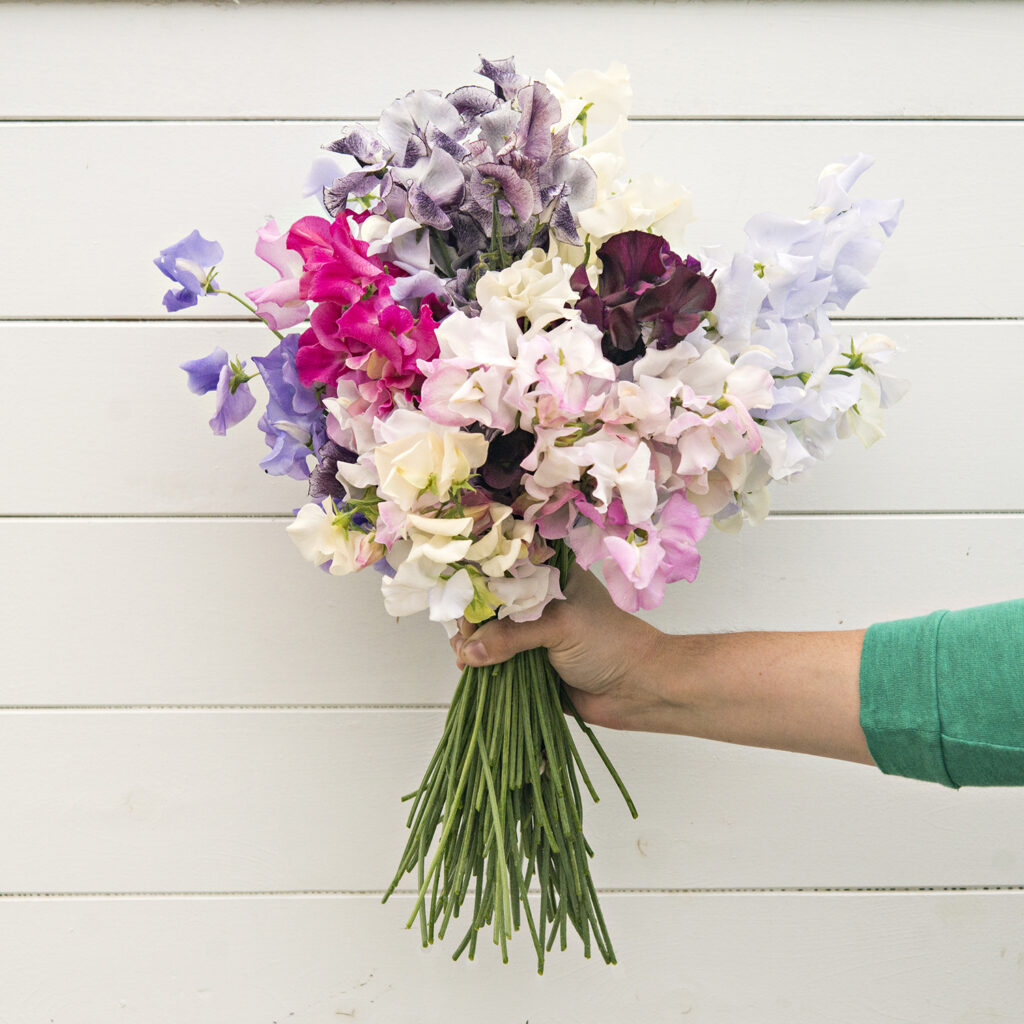 For all the nitty-gritty details on starting from seed and growing, check out my post on How To Grow Sweet Peas where I do a deep dive into growing these delicate, fragrant flowers. While not the longest lasting cut flower, harvest when there are at least 2 unopened blooms, and you should have a good 5 days of vase life. I don't know of anyone who doesn't enjoy giving away a jar of sweet peas or keeping one on their kitchen table. These are a must-grow on my list.
#1 Dahlias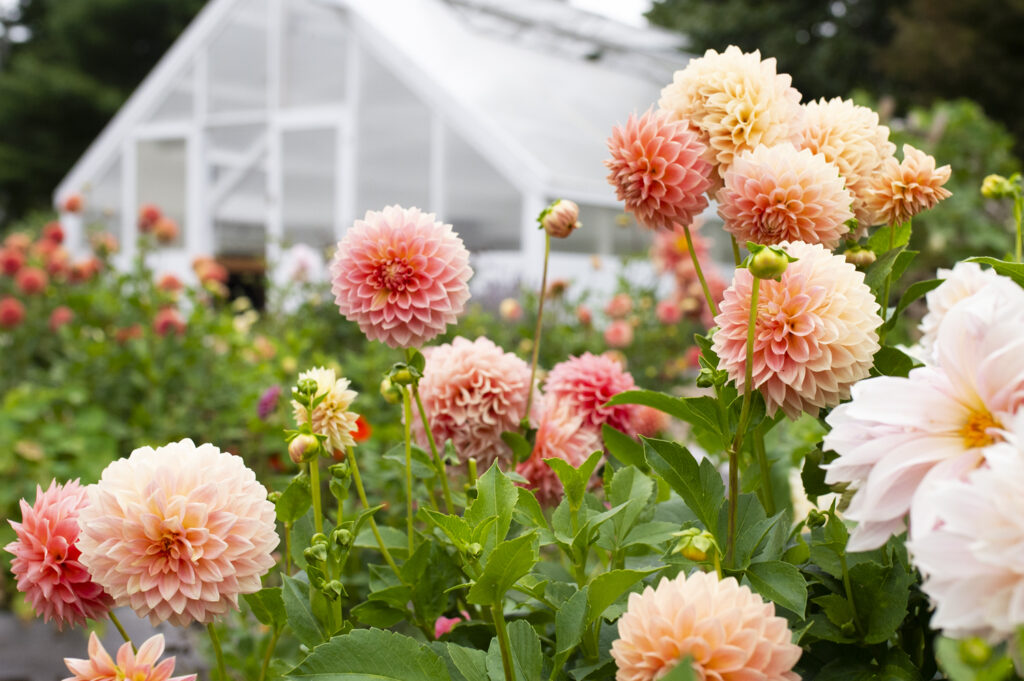 Epic. Dahlias are certainly epic. Another one of those I started growing because my mom had them in our garden growing up. But kept growing them because they're so sensational I'm obsessed! Some consider dahlias tender perennials, I consider them flowering annuals as they die at the end of the growing season up in my zone 5b garden.
Grown from tubers, not seed. While you can grow them from seed, but it's literally a crapshoot. Every seed is a different variety, and you have not idea which you will get when grown. Tubers on the other hand are identical clones of the mother plant. You will know what form, color, height and size you will get when growing from tubers—which is helpful when planning your garden. Tubers are thick, meaty, potato-like underground stems, from which your dahlia plants sprout from. They contain a food reserve within themselves, so dahlias need little to get started other than dropping them into a 4-6" deep hole and feeding them with compost. A handful of bonemeal and a complete fertilizer (a fertilizer in which all the numbers on the bag are the same, for example, a 10-10-10) will give your dahlias the boost they need to prolifically produce all season long.
Space 12-18" apart and remember pinching is a necessity. Pinch back the center stem, when 12". Check out my post, Pinching for Beginners if you're new to this. Dahlias require plenty of water, and you should check regularly for snails and earwigs throughout the summer. Unlike most flowers which are harvested as the flowers begin to unfurl, dahlias don't open much more once they're cut. Harvest when the flower is mostly open and feels firm.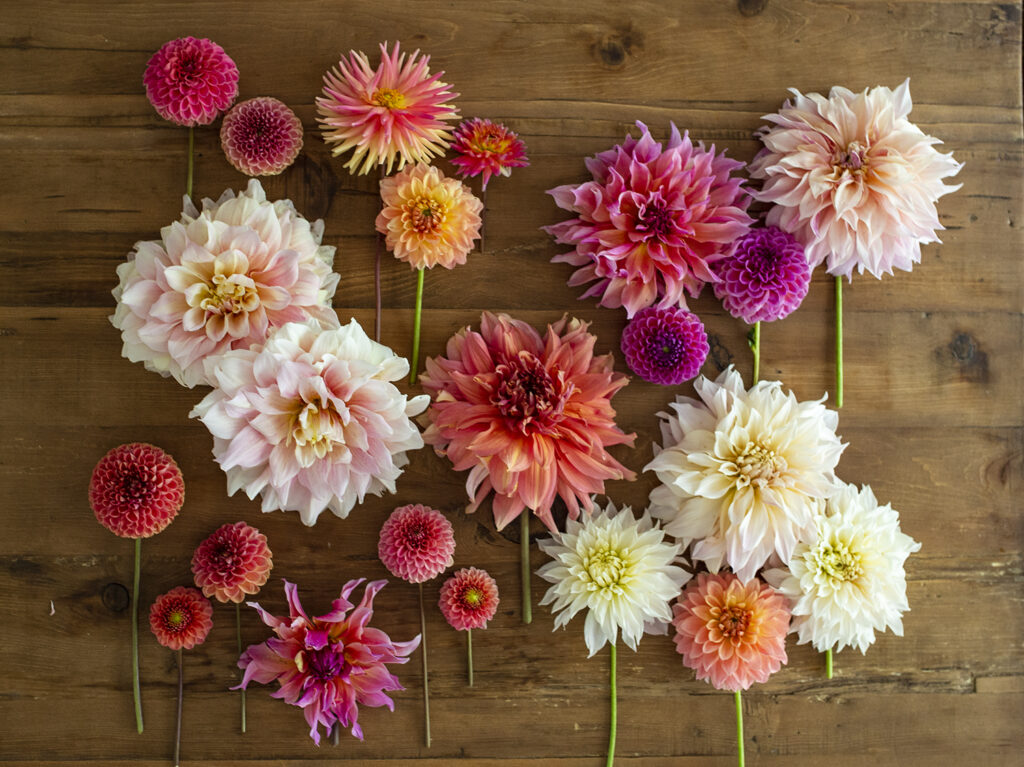 And here's what makes dahlias a winner in every garden:
The more you cut, the more you get! That's right. If you harvest regularly, your dahlia plants will reward you with more stems and more flowers.
Dahlias will bloom from mid-summer till frost, then they're done. If left in the ground over winter, they will rot. But don't dismay. Dig up those masses of tubers in the fall, divide them and then you'll get many, many tubers to plant or share the following spring! I've done a detailed step-by-step post on How to Divide your Dahlia Tubers, in case you're a first-timer. And I can guarantee that if this is the first year you're growing dahlias, it certainly won't be your last.
Bonus: Basil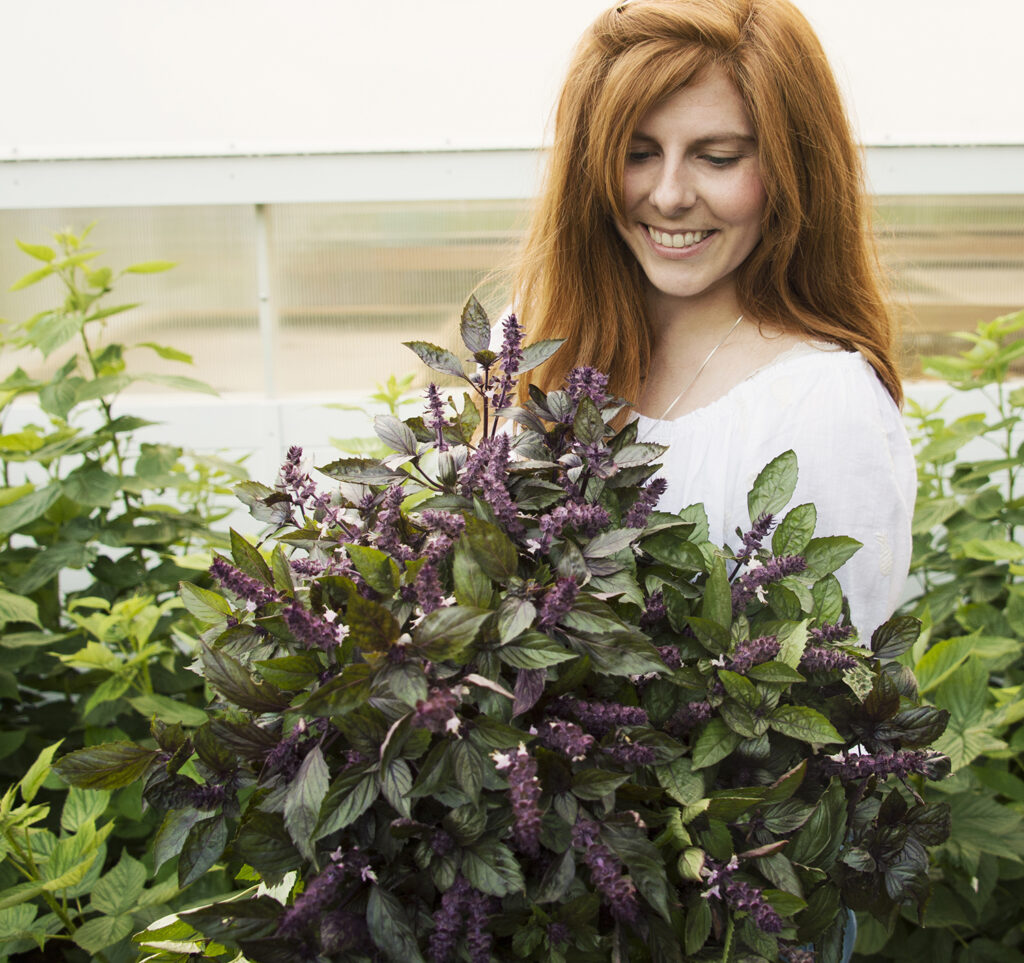 Okay, I know I said there were only 10 flowering annuals in this list. Yes, basil is considered an herb. Yes, it's grown primarily for its leaves. But it really does need to be included, and here's why: let your basil go to flower. It's glorious! And if you grow some of the more ornamental varieties like my treasured 'Aromatto' with its long purple stems, green and plum swirled leaves and tall lavender spikes, you will be wowed. 'Cinnamon' and 'Siam Queen Thai' are also personal favored choices for both flowers and filler. And the most powerful perk of including basil stems to your flower bouquets and arrangements…they smell of basil!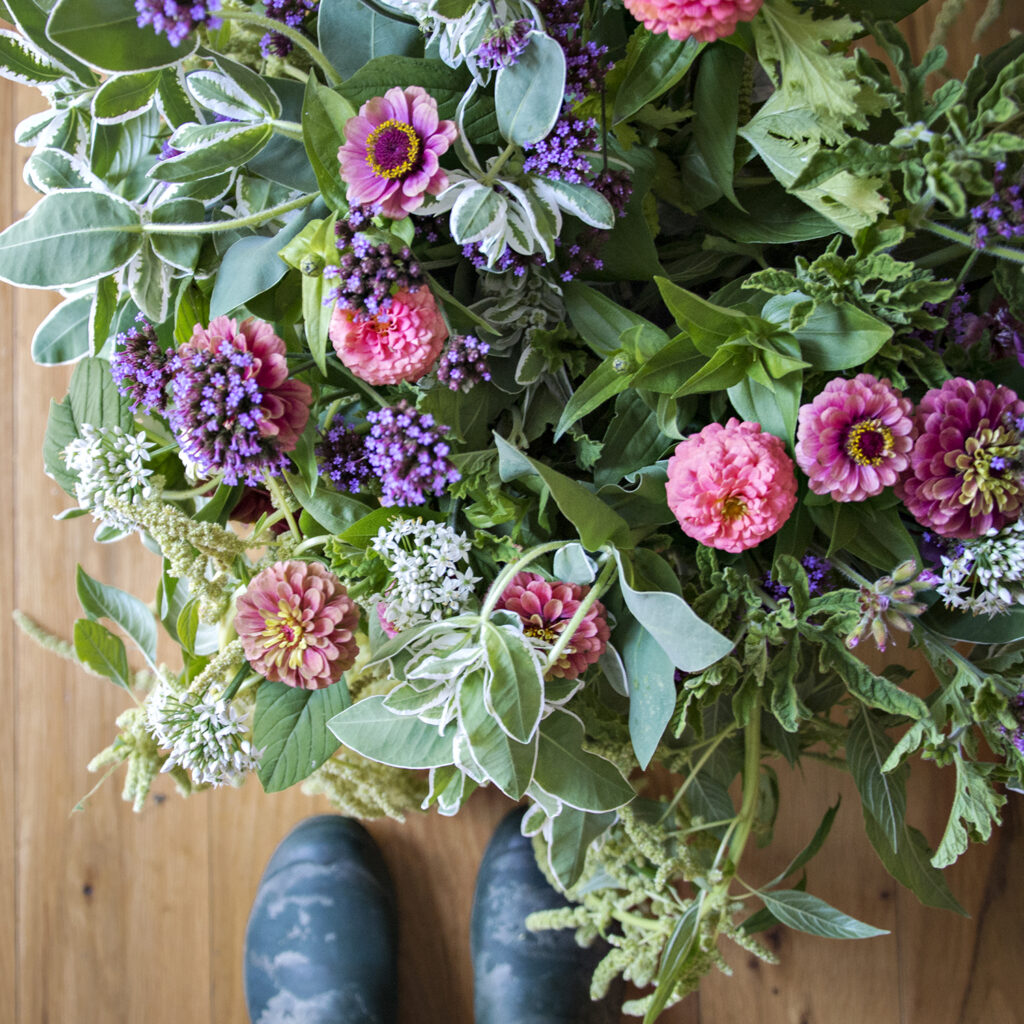 If you've never grown any of these flowering annuals before, that's just ranunculus!